Central America is a very popular destination for travelers and backpackers from around the world. Costa Rica has a thriving tourism industry, Belize is popular for divers, Panama has some incredible island hopping and Guatemala is one of the go-to places to visit Mayan ruins and learn Spanish. Even Nicaragua and El Salvador have become definite highlights along the Volcano Trail.
But there's one country that continues to have trouble shedding its bad image of the past. So you may be asking yourself, "Is Honduras safe for tourists?"
Well, take it from somebody who has been living here for 12 years: Honduras is safe and it's amazing! Like many countries and cities around the world, there are still some places to avoid and some safety precautions to take. Don't worry, I'll share those with you here. But mostly I'm here to tell you that Honduras has a whole lot to offer. So keep reading to find out why Honduras should absolutely be on your travel list!
Why Go to Honduras?
First things first: WHY should you go? Here are TEN reasons to travel to Honduras:
1. Nature
Famous for its natural beauty, Honduras is a country full of beautiful beaches, crystal clear waters, mountain ranges, national parks, rainforests, jungles and wildlife galore.
2. People
The Honduran people are extremely friendly and helpful, with a strong sense of family values. They love to share their culture, especially the food and dance.
3. Culture, History and Ruins
Honduras is rich in culture, with an exotic mix of Mayan and other pre-Colombian heritage to go along with the Spanish colonial influences.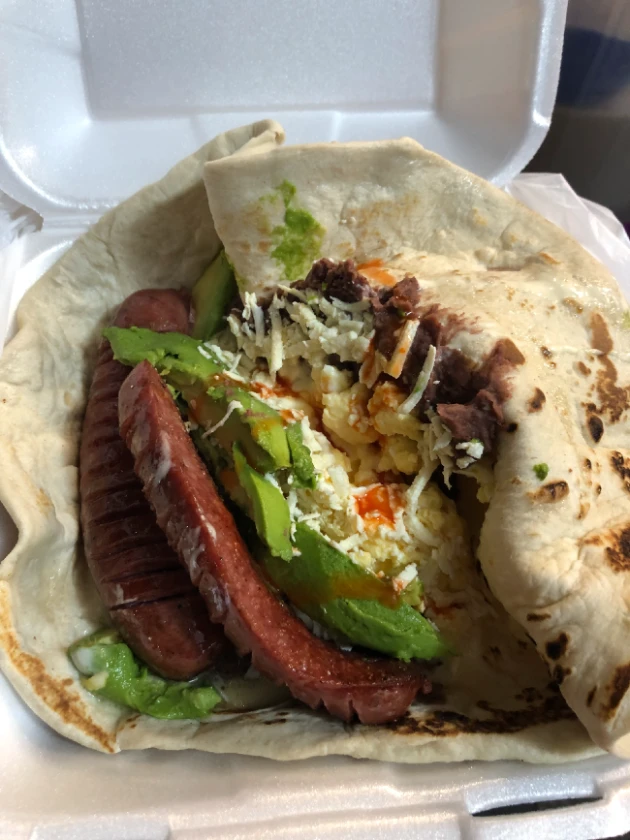 4. Food
There are a variety of typical Honduran dishes, mostly rooted in such staples as corn, beans, cassava (yuca), plantains and rice. The coastal areas and islands have great seafood, and of course you will get your fill of the ever-present and ever-so-delicious baleadas (a tortilla filled with fried beans, cream, cheese with the option of meat or avocado), pastelitos (a pastry similar to empanadas) and fruit smoothies (a common breakfast here).
5. Coffee
You a coffee connoisseur? Welcome to coffee paradise! Honduras is now the largest coffee producer in Central America, and they've got lots of quality to go with that quantity.
6. Affordable
Central America really doesn't get much cheaper than Honduras. So if you're trying to get some fun and culture and not break the bank, you can count on Honduras for cheap accommodation, food, transport and nightlife. Oh yeah, and some of the cheapest diving in the world…
7. Island life
On the Bay Islands, you'll certainly get your fill of beaches, but did you know that these islands lay right in the heart of the second largest barrier reef system in the world? Divers and snorkelers come from all over the world to see the amazing corals and sea life of Honduras – and it really doesn't get any cheaper for a SCUBA certification.
8. Learn Spanish
You'll have plenty of opportunities to brush up on your Spanish-speaking skills on the mainland. The locals are friendly and patient, but maybe still not used to so many English-speaking tourists since Honduras is only just recently shedding its shaky reputation. But don't worry, you won't need it in the Bay Islands. Did you know that the Bay Islands were originally settled by British settlers and pirates in the 1600s? To this day, you'll still hear as much English spoken as Spanish on these Caribbean islands.
9. Weather
Honduras is in the tropics, so it's warm year round. Okay, it can get pretty humid during the rainy season (May-October), but if you're looking for a place to escape the harsh winter, wintertime is also the dry season.
10. Get Off the Beaten Path
Like Colombia and Nicaragua before it, Honduras is a Latin American country that is quickly becoming a hot backpacker destination, but it's still very much off the radar for the average tourist. So get there before it gets crowded and the prices start rising!
GET GAMING IN HONDURAS! Do you want to experience the Caribbean, visit a rainforest, meet new people and enjoy some competition? Come join us for this board gaming tour.
What to See and Do in Honduras
There are essentially two very different versions of Honduras, and both have a lot to see and do. We've split this section into two parts, but we definitely recommend you find the time to do both.
Mainland:
Copan Ruins: Without a doubt the most famous historical site in Honduras is the site of the ancient Mayan city of Copán, These ruins date back to the 5th century and the region is very safe to visit for travelers and families alike.
Rio Cangrejal: This gorgeous region of northern Honduras offers everything from white-water rafting and horseback riding to hiking, swimming and cycling.
Lake Yojoa: Visit the largest lake in Honduras for scenic views, kayaking and local craft beer. We highly recommend you take a half day to visit the nearby Pulhapanzak Waterfalls.
Cloud Forest: You can't go wrong with a hike above the clouds, and in Honduras you've got a few options. They're not always easy to get to, but with a 4×4 or a tour you can visit Parque Nacional Cusuco, Parque Nacional Montecristo Trifinio and Pico Bonito National Park for some breathtaking views.
Río Plátano Biosphere Reserve: Didn't get your fill of ruins at Copan? Come to this rainforest for the ruins and stay for the ecotourism, petroglyphs, indigenous people and endangered species (including giant anteaters, jaguars, ocelots, pumas and sloths).
Pueblos Mágicos: Okay, we stole this term from the Mexican Tourism Board, but for good reason. Tegucigalpa may not be on our list of must-see spots in Honduras, but if you are in the region, take a day or two to visit several of the beautiful villages just outside of the city such as Santa Lucia, Valle de Angeles, Ojojona and Comayagua. Wander around these towns and enjoy the epic views, the local handcrafts and and be sure to drink as much local coffee as possible.
Trujillo: This beautiful colonial town on the northern coast has a thriving expat community, beaches, coral reefs and easy access to the Bay Islands by way of a ferry to Guanaja.
Tela: This coastal town makes a nice base for day trips to Lancetilla Botanical Gardens and Parque Nacional Jeanette Kawas. Like Trujillo, you've got nice beaches, coral reefs and delicious seafood. We do, however, recommend to stick to daytime for the beaches in both locations.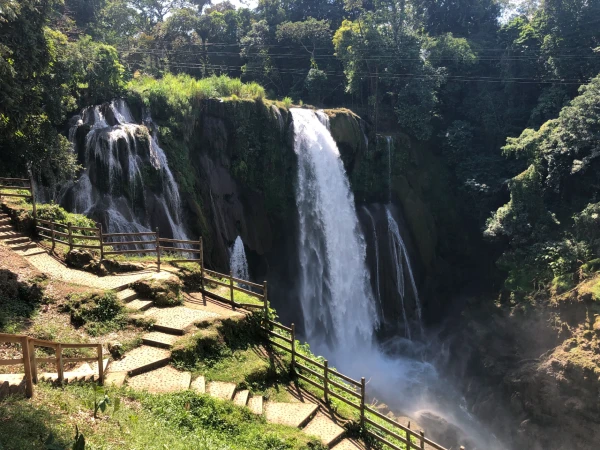 The Bay Islands:
Roatan
Roatan is the largest and most family-friendly of the Bay Islands. It's famous for the diving, sailing, deep-sea fishing, beaches, backpacker hostels and you can get there easily by ferry, cruise ship (if that's your thing) or even by plane! Yup, there's an airport with flights from the states, though this may not be the cheapest way to get there. Here are a few things to do in Roatan:
Diving: This is the #1 draw to Roatan. Divers the world round come to take advantage of the coral reefs, shipwrecks and wide variety of sealife – including whale sharks! Beginner to advanced divers can all be accommodated, so don't worry about your level.  Or if you prefer to just throw on a snorkel mask and stay close to the beach or pier, the coral reef is right off the shore.
Swim with dolphins: Head out to Anthony's Key and get up close and personal with these majestic creatures.
Day trip to Little French Key: Book a tour to this beautiful private island and enjoy a day of snorkeling and drinks on the beach.
Zip lining: No explanation needed! You'll find options all over the island.
Eat your weight in seafood, ceviche, baleadas and a wide variety of international foods that are popping up at restaurants all over the island.
Parks and attractions:

Carambola Botanical Gardens & Trails
Roatan Butterfly Garden
Utila
Utila is Roatan's crazy little brother. You'll get a lot of the same nature and adventure, but for cheaper! So besides the beaches, diving and snorkeling, what should you do in Utila?
Nightlife: Utila is famous for its parties, but they're easy to avoid if that's not your thing. If it is, head to Tequila Tuesday at your own peril. You've been warned!
Rent a scooter or bike and explore the island.
Hike to Pumpkin Hill: Located on a former volcano, at Pumpkin Hill you'll find a sandy beach, a chill bar and a can't-miss lookout with the best views of the island and the Caribbean.
Neptune's at Coral Beach: Why not hop on a free ferry and spend a half day at Neptune's? You'll be sure to enjoy the beaches and snorkeling, great food and cocktails, and views of the mangrove forest along the way.
Kayak: Book a tour or rent a kayak on your own and head out to the Utila Cays.
Jade Seahorse: For a little something different, visit this unique hotel and art exhibit made out of intricate mosaics and sculptures made of recycled bottles, balls, electronics, plastic bananas and so much more.
Iguana Research & Breeding Station: Just a short walk from the main strip, you'll find this organization whose aim is to breed, protect and educate about the endangered spiny-tailed iguana, or "swamper".
Utila Chocolate Co: Right around the corner from the iguana center, you definitely don't want to miss out on the best artisanal chocolate in Utila, using only the finest organic Honduran ingredients.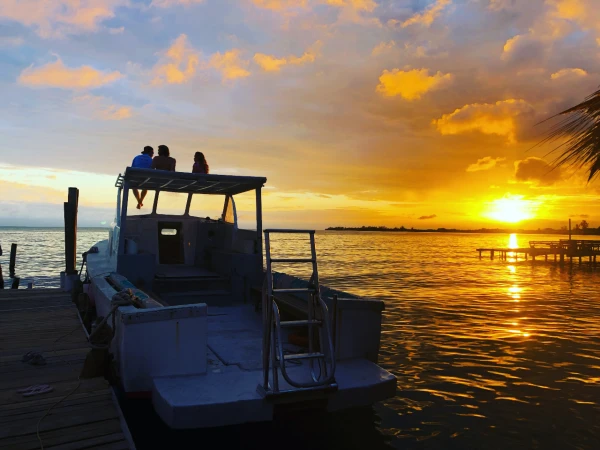 Guanaja
The smallest and most untouched of the Bay Islands, a trip to Guanaja is a nice opportunity to get away from it all and embrace nature with some hiking, waterfalls, beaches, pine trees and mangrove swamps.
You can get there by ferry from Roatan or Trujillo or charter a flight from Roatan or La Ceiba.
Is it Easy to Travel in Honduras?
Here are some quick tips to help you navigate:
Accommodation:

Unfortunately, the tourism infrastructure isn't exactly world-class in most of Honduras. But, you know, tourists only just started arriving in the last few years, so that's going to take some time. On the Bay Islands, you can book ahead of time with all of your usual websites and apps. You may need to dig a little more on the mainland. But don't give up! Try several sites, including your map app to find contact information.
There's always affordable accommodation to be found, but sometimes that may mean looking for hotels after you arrive to town or asking for some help wherever you're staying before you head to your next destination. Word of mouth is king in Honduras.
Like in a large number of favorite tourist destinations around the world, sometimes hot water is tough to find (at least consistently). Fear not, the tropical weather will keep you warm 😉

Credit Cards and ATMs: In Latin America, many businesses operate on a cash-only basis and when they do accept cards, there's often a small percentage added on. Your bank's network may not be found in some locations – or in Honduras at all. So if an ATM at one bank doesn't work for you, often the next one will.
Taxis: Always negotiate the price before you get in and carry small bills because the taxi driver probably won't have change. Expert tip: Have your hotel/Airbnb/etc call one for you and establish the price ahead of time. You'll also be sure to get the local price this way.
Avoid drinking the tap water. There's always cheap bottled water to be found. Or if you'd rather not use too much plastic (good for you!), then bring your own water filter or at least a refillable thermos.
Safety:

We recommend avoiding San Pedro Sula, Tegucigalpa and La Ceiba except for daytime transfers while moving from one place to another.
On the mainland walking around alone at night is just a little riskier, so speak to the person accommodating you to get their advice on which areas to stick to at night – and use a taxi.
In general, avoid going to ATMs at night. Most banks have security around during working hours, so that will be your safest choice.
Just use common sense: don't walk around with large amounts of cash, keep your valuables and your passport at the hotel and don't go overboard with the fancy accessories.

Travel insurance is always a good idea for any trip. We recommend World Nomads.
And finally… don't forget your bug spray!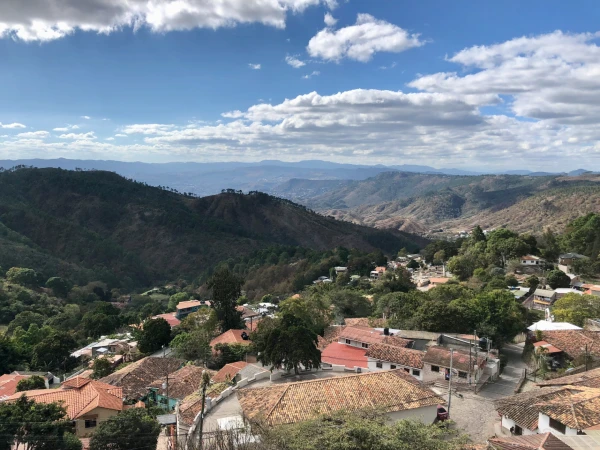 So what are you waiting for?
Well there you have it! Now that you know that Honduras is safe for travelers, let us help you make it happen. Contact us to plan your trip. Or join us on our next board gaming tour to Honduras and the Bay Islands this summer!
What are your favorite spots in Honduras? Let us know in the comments below!