Hotel Casa Blanca in El Progreso, Honduras is a decent hotel with a great price point, especially if you just need a spot for a night on the way in or out of Ramón Villeda Morales International Airport (San Pedro Sula Airport – SAP).
How Far Is Hotel Casa Blanca From the Airport?
The hotel is 12.5 miles/ 20 kilometers from San Pedro Sula Airport. As far as how long it takes to get to or from, depends on what time of day you need to go to the airport. On my most recent trip, during Monday morning rush hour (8am), it took us 35 minutes.
How Do I Book Hotel Casa Blanca in El Progreso?
This part can be tricky, I used Facebook to book, but they don't check it a lot; so you will have to wait a few days for a response. Or of course contact me.
How Much Does Hotel Casa Blanca Cost?
This is a mid-range hotel in Honduras, our room was 1000 Lps/night, or approximately $40 USD.
Payment Method: Takes Visa & Mastercard
How is Hotel Casa Blanca in El Progreso?
Check-In Process: Super easy, they speak some English, but just hand over your ID and you will be all good.
Room: Our room had a Queen bed, super hot water, a flat-screen TV, AC and WiFi, no safe.
Cleanliness: Everything was clean, and the appropriate number of towels. All staff wear masks, there is a sanitation station by the entrance when you come in.
Concierge Service: They don't have a concierge service really, but you can ask questions at the front desk – remember – limited English. They were able to arrange a taxi for me for 8am to go to the airport
Food: There is Ara Macao Cafe on site, no need to leave the property. It does not have room service, but the café is cute and the food is great. It's open from 7am to 8pm. There are tables with WiFi and charging outlets.
Common Areas: There is a small open air pool – so great for catching a tan in the daytime. A cute little garden area with some tables, which I used in the morning to do some work – no power outlet here though.
Unique: There is a large Macaw cage located in the shade next to the Café with approximately 6 Macaws. These are beautiful big colorful birds, similar to a parrot. They will bite, so don't stick fingers in the cage. As a side note, there is an amazing Macaw Sanctuary in Honduras near Copan, that rescues and rehabilitates injured Macaws and is an amazing place to see if you get a chance.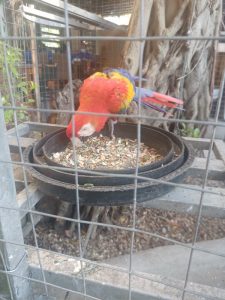 How Do I Get To/From the Airport From/to Hotel Casa Blanca?
Taxi cost to Airport: 500 Lempira
The front desk can set up a taxi for you.
Overall Rating of Hotel Casa Blanca in El Progreso, Honduras
Overall I do like Hotel Casa Blanca, it is at a great rice point and close to the airport. There is food for the majority of the day at the onsite Ara Macao Cafe. There is always a guard in the parking lot, so no need to worry about security. I do recommend confirming your booking via Facebook a few days before as a few years ago, they did 'lose' my reservation (on a previous trip) and I had to get a more expensive room. I would stay again.
Value: 10
Cleanliness: 8
Ease: 7
Location: 10
Amenities: 10
Helpfulness of Staff: 10
Most recent visit: Oct 2021