SATISFY YOUR APPETITE: CULINARY TRAVEL 
Vaccine and negative COVID-19 PCR test Required*

DetailS about the package
Discover Peru's culinary scene from Lima to Cusco
Peruvian food and topography go hand in hand. Using what pachamama (mother earth) gave them, the Peruvians have developed a cuisine that combines local and international flavours. And undoubtedly it is the geography of Peru that makes its culinary culture so distinct. 
With the coast providing an abundance of fresh seafood, the Andean highland supplying a variety of potatoes and the Amazon rainforest delivering delicious seasonal fruits, it's unsurprising that Peru is one of the world's emerging foodie hotspots.
Why you'll love this trip
It's delicious, diverse and hands-on. You'll learn the secrets of ceviche, make your own Pisco sour, learn a few Andean cooking tips with a foodie in Cusco and eat empanadas straight from the wood-fired oven
Pay a visit to a cacao farm and get involved in the whole process from planting to the final product. Enjoy a farm-cooked dinner and stay overnight on the family's plantation.
Indulge in an optional tour and tasting at one of the Sacred Valley's first craft breweries. Whet your whistle with a pint of the fruity local IPA, the citrus tinged American pale ale, the caramel malts of the Ayrampo Roja red ale or the hearty chocolate notes of the imperial porter.
Discover the breadth of Peruvian cuisine in all its rich and colourful history, from the rustic 'pachamanca' tradition to Lima's world-class urban street food scene
No trip to Peru is complete without seeing Machu Picchu, so you'll spend a day exploring this magical metropolis of the Incas
Is This Trip Right For You?
This trip aims to give you an exciting, diverse and well-rounded experience of a country's cuisine. While we endeavour to cater for specific dietary requirements, some meals and food activities are set in advance and may be difficult to adjust. In many countries, dietary restrictions are not common or well understood. If you have dietary requirements, please advise your agent at time of booking to receive information on how this may impact on your ability to take part in included activities and meals. Come with an open mind and open mouth, and you won't be disappointed.

Due to the high altitude of many of places we visit some people can suffer altitude sickness, regardless of age, gender or fitness. It even happened to Sir Edmund Hillary! Please see the 'Medical and Health Information' section of the Essential Trip Information for more details.

The facilities at your coffee farmstay are basic, but comfortable. The rewards of such an authentic local experience are immeasurable.

This trip does NOT include hiking to Machu Picchu. You will make the journey by train and bus. If you would like to hike to Machu Picchu, we recommend our trips Sacred Land of the Incas and Inca Trail Express.

Visitors are not permitted to explore Machu Picchu without a Machu Picchu guide (not our trip leaders) and must follow set routes within the site. This trip includes two guided visits of Machu Picchu and each visit is approximately 1.5 – 2 hours long. Once your guided visits conclude, you will need to leave the site and personal exploration of Machu Picchu is not permitted. Your leader will provide more information to ensure you get the most out of your visits to this incredible site.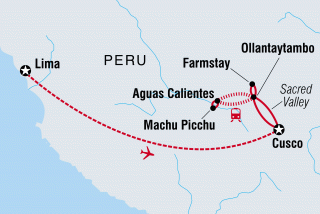 Start: Lima
Finish: Cusco
Destination: Peru
Theme: Food Travel
Physical Rating: 2/5
Age: Minimum 15
Group Size: 1-12
A vacation is what you take when you can no longer take what you've been taking.