MEMORIES FOR A LIFETIME: ADVENTURE TRAVEL
Galapagos Islands Adventure
Vaccine and negative COVID-19 PCR test Required*

DetailS about the package
Exclusive Small-Group Nature Immersion Led by the Islands' Most Experienced Guides
Six hundred miles off the coast of Ecuador, surrounded by open ocean, a volcanic archipelago straddles the Equator. The Galapagos Islands, forged of black lava and named for the giant tortoises that are among their most noted inhabitants, are like no other place on Earth.
Home to a profuse array of unique wildlife, the islands offer an immersion in nature that feels primeval. Iguanas and blue-footed boobies share the  beaches with us, unfazed by our presence. Friendly sea lions—and sometimes inquisitive porpoises—play with us in the clear turquoise water, as Galapagos penguins dart by and sea turtles glide past.
Author Herman Melville, who visited the islands in 1841, shortly after Darwin's momentous visit, called them the "Enchanted Isles"—an apt moniker for a realm that remains otherworldly, even today.
Why you'll love this trip
Explore a Diversity of Islands in Depth. 

Our flagship itinerary is an immersive exploration of the Galapagos, with a full week aboard a privately chartered yacht carrying just 14–16 guests

You Won't Find a Smaller Group.

 

Each trip is led by two Expedition Leaders—the Galapagos' most highly trained naturalist guides—for the best guide-to-guest ratio in the islands

Spend a Night with Giant Tortoises. Snorkel with sea lions, swim with turtles, sunbathe with iguanas, scout for whales, and overnight in wild tortoise terrain at our private camp in the Santa Cruz highlands

The World's Finest Naturalist Guides. Natural Habitat Adventures is known worldwide for employing the highest-quality guides in the industry. Our group of elite Galapagos Expedition Leaders averages more than 15 years' guiding experience each. Additionally, they receive training and resources from WWF's world-renowned scientists. Our philosophy on this is pretty simple: A nature adventure is only as good as the guide, so we simply must provide the best! 
Is This Trip Right For You?
Our Galapagos adventures feature a full agenda each day, with early mornings and long days filled with various activities.
Activities primarily include island walks, swimming and snorkeling. Trails are often rough and uneven, crossing sharp lava fields and loose rocks and gravel.
Walking over slippery rocks is sometimes necessary when stepping ashore.
Passengers must be able to walk a minimum of two miles to participate in this trip, walk up and down stairs, and be able to get in and out of motorized pangas (rigid inflatable rafts), which can be very unsteady in rough water.
A few wet landings, where we disembark from the panga directly into the water and walk up onto the beach, are required.
Itineraries that feature a visit to Bartolome include a walk with more than 300 wooden steps to reach the viewpoint at the top of the island and itineraries that visit Española include a 2-mile hike on a trail made of primarily lava and rock. 
Snorkeling is a big component of this trip, with excursions offered nearly every day, sometimes twice a day. While no snorkeling experience is required, prior practice is recommended, and travelers should be comfortable swimming in moderate currents and in deep water where you can see the bottom but cannot stand up. Our Expedition Leaders will also offer instruction for those in need of additional snorkeling guidance.
Travelers are not required to participate in every activity.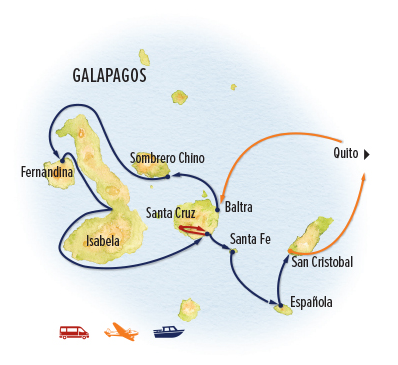 Start: Quito
Finish: Quito
Destination: Ecuador
Theme: Adventure Travel
Physical Rating: 3/5
Age: Minimum 7
Group Size: 1-16
A vacation is what you take when you can no longer take what you've been taking.