SATISFY YOUR APPETITE: CULINARY TRAVEL
Morocco Real Food Adventure
Vaccine and negative COVID-19 PCR test Required*

DetailS about the package
Eat, taste and cook like a local on this trip to the heart of Morocco.
Clear your plate for flavour-filled Morocco, where Berber, Arabic and European influences mix to create an adventurous culinary cocktail. Follow the smell of food through mesmerising markets and master recipes taught by those that know them best. Grab street food from a souq and share traditional meals in local homes. Take a handful of bustling medinas, mix with a dash of sea and season with fresh local produce, all drizzled with warm Moroccan hospitality for an adventure that will linger long on the tongue and in the memory.
Why you'll love this trip
Discover the wide world of bread that forms an essential part of every Moroccan meal, hollowed out khobz filled with boiled eggs will be your new favourite breakfast!

Get a real insight into Moroccan food with a home-cooked dinner in the Blue City, Chefchaouen. Prepared with seasonal ingredients – enjoy a dish that's bursting with flavour and made with love.

Soak up what could be the quintessential smell of Morocco as you watch ras el hanout, a rich and complex blend of delicious spices, being freshly ground in a Marrakech souk.

Indulge in mechoui (slow roasted lamb), that's deliciously falling-apart after being cooked in a pit beneath the floor – all while looking over market stalls in the incredible Djemma el Fna.

Take a guided 'tasting trail' through Fes and enjoy a cooking demonstration – learn how to create one of the city's signature dishes, bastilla, a salty and sweet pastry parcel.
Is This Trip Right For You?
This trip aims to give you an exciting, diverse and well-rounded experience of a country's cuisine. While we endeavour to cater for specific dietary requirements, some meals and food activities are set in advance and may be difficult to adjust. In many countries, dietary restrictions are not common or well understood. If you have dietary requirements, please advise your agent at time of booking to receive information on how this may impact on your ability to take part in included activities and meals. Come with an open mind and open mouth, and you won't be disappointed.

As this trip covers quite a lot of ground there are some long drives. These are excellent opportunities to get to know your fellow travellers, catch up on some reading, or simply appreciate the scenery.

On Days 8 & 9 you'll visit M'Goun Valley. This remote area of Morocco is an amazing place to discover on foot, but to do so you'll need a moderate level of fitness and have the relevant footwear and clothing with you. Don't worry if trekking isn't really your thing, there are plenty of other activities to do in the valley.

The weather in Morocco can be extreme. Summer temperatures can be uncomfortably hot, especially for those who aren't accustomed to the heat, so please consider carefully what time of year you travel. If you do travel in the warmer months, pack layers to cover you from the sun, bring the necessary sun protection and drink plenty of water.

Although you shouldn't expect any aggressive selling techniques in Morocco, please be aware that you may be approached by shop owners and street vendors offering their goods to you on regular occasions.

In 2022, Ramadan will take place from 2 April to 1 May. Travelling during this holy month can be a rewarding cultural experience, however some regular services may not be available during the daytime, such as restaurants or coffee bars, and occasionally travel can be disrupted by events. Your leader will adjust the itinerary accordingly, but please consider your travel arrangements carefully before booking travel for this period.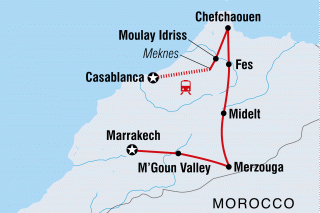 Start: Casablanca
Finish: Marrakech
Destination: Morocco
Theme: Food Travel
Physical Rating: 2/5
Age: Minimum 15
Group Size: 1-12
A vacation is what you take when you can no longer take what you've been taking.